El futuro de la medición de nivel: Micropilot FMR5x

Nuevo análisis de la señal con "Multi-Echo tracking"
Desde su lanzamiento 20 años atrás, los medidores de nivel radar Micropilot han cosechado un gran éxito. Muestra de ello son las más de 300.000 unidades instaladas en todo el mundo. Endress+Hauser pone a su disposición la nueva generación de transmisores Micropilot FMR5x, así como la experiencia acumulada en medición de nivel radar, desde la planificación y la puesta en marcha, hasta el mantenimiento y la gestión de la planta.

Novedades Micropilot FMR5x
La nueva familia Micropilot FMR5x incorpora todo lo necesario para garantizar la máxima seguridad y exactitud en la medición, tanto en los modelos estándar para aplicaciones generales (FMR50 para líquidos y FMR56 para sólidos), como en las versiones más sofisticadas, en condiciones de alta presión y/o temperatura (FMR51 para líquidos y FMR57 para sólidos).
Además, su diseño modular permite que siempre haya un Micropilot FMR5x idóneo para todo tipo de aplicaciones en todas las industrias.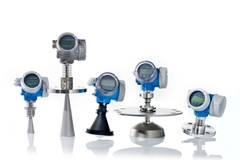 Seguridad
Hardware y software hasta SIL3, desarrollados según la IEC 61508
Implementación de todos los estándares de la industria
Todas las certificaciones ATEX disponibles
Exactitud
Alta fiabilidad gracias al algoritmo Multi-Echo Tracking
Algoritmos dinámicos para una medición segura y exacta
Precisión de: ± 2mm / ± 0.08" con SIL2 y hasta SIL3
Eficiencia
HistoROM: Monitorización y configuración fácil y rápida
Menú intuitivo, orientado a la operación
Perfecta integración en sistemas de control o de gestión de activos
El Proof Test para SIL más fácil del mercado. Remoto y sin detener el proceso, lo que se traduce en un ahorro de tiempo y dinero

Related offering

Simple products

Easy to select, install and operate
Technical excellence
Simplicity
Standard products

Reliable, robust and low-maintenance
Technical excellence
Simplicity
High-end products

Highly functional and convenient
Technical excellence
Simplicity
Specialized products

Designed for demanding applications
Technical excellence
Simplicity
FLEX selections
Technical excellence
Simplicity

Fundamental selection

Meet your basic measurement needs

Technical excellence

Simplicity

Lean selection

Handle your core processes easily

Technical excellence

Simplicity

Extended selection

Optimize your processes with innovative technologies

Technical excellence

Simplicity

Xpert selection

Master your most challenging applications

Technical excellence

Simplicity
Success stories

The evolution of commissioning

The wizard includes all relevant settings for commissioning in one sequence. The layout changes on individual settings and it's easy and intuitive to use.